Inhabitants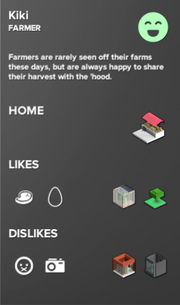 Inhabitants, also known as Agents, MISSING TEXT
There are four different ways of bringing inhabitants to your hood:
Habitats will always spawn at least one inhabitant, some will spawn an inhabitant in every block. Most of these habitats are the images showed in the in-game info.
Homes may or may not spawn an inhabitant.
Biomes have special natural blocks that spawn animals.
Events may spawn inhabitants too (Protester).
Agent
Spawning conditions
Description
Office Worker

Habitat: Small Apt + Office
The noble office worker can be found near productive offices, often hunting for caffeine...
Consumer

Habitat: Any apartment + Corner Store

Homes: Clothing Retailer

Consumers appear wherever there are good deals, or shiny things to buy.
Pig

Habitat: 2x2 Pig Pen
Domesticated pigs use mud not only to cool themselves, but also to protect their sensitive skin.
Cow

Habitat: 2x2 Cow Pasture or Cow Cafo
Happy cows come from expansive pastures.
Fox

Habitat: Ash Tree x5

Biomes: Desert Scrub

The nimble fox traipses between solitary trees.
Deer

Habitat: Elm Trees + Grass x2

Homes: Umbrella Bamboo, White Spruce, Arctic Moss, Barrel Cactus

Biomes: Forest

Deer are wild and commonplace ruminants, native to many biomes.
Chicken

Habitat: Chicken Barn + Grass
Chickens are perhaps the most abundant domesticated fowl in the world, numbering up to 19 billion.
Sheep

Habitat: Sheep Pasture x2
Domesticated sheep provide mutton and wool to 'hoods 'round the world.
Farmer

Habitat: Planters x2

Homes: Vegetable Stand, Cheese Stand, Fish Stand, Fruit Stand, Dry Coffee Processing, Shaded Coffee Field, Sun Coffee Field, Rice Field, Vineyard

Farmers are rarely seen off their farms these days, but are always happy to share their harvest with the 'hood.
Grizzly Bear

Habitat: Beech Tree Grove x7
These bears tend to be reclusive, living deep within forests or in the wild.
Bison

Habitat: Wild Oats x6

Biomes: Grassland

Bison require considerable open space to roam and graze, and are rarely seen outside of  wilderness.
Albino Bison

Even rarer than your average bison, albino bison are often heralded as harbingers of momentous events.
Flamingo

Biomes: Desert
The flamingo's most characteristic habitats are large alkaline or saline lakes or estuarine lagoons that usually lack vegetation.
Homeless

Habitat: Decayed apartments x3

verify

Hard times can hit Block'hood inhabitants, and, without anywhere else to go, homeless will appear in abandoned apartments.
Pesticide Sprayer

Habitat: Pesticide Shack + GMO Corn Field x3
Pesticide spraying is sometimes an unfortunate but necessary job to maintain certain monoculture crops.
Playground Children

Habitat: Playground + Grass
Studies have shown that playgrounds provide a necessary energy sink for rambunctious kids.
Alcoholic

Habitat: Bar + Lamppost
Some people can't hold their liquor, or know their limits.
Ballerina

Habitat: Studio Space x2
The grace of a dancer's movement can only be honed through hours of practice at the studio.
Basketball Player

Habitat: Basketball Court
Nothing beats the sounds of sneakers on pavement and ball hitting backboard...
Beekeeper

Habitat: Bee Farm x3
Beekeepers help preserve endangered species of bees and endangered supplies of honey.
Celebrity

Habitat: Luxury Apartment
Glitz and glamour will go where comfort and cameras reside.
Street Performer

Habitat: Jazz Club + Plaza
Sometimes hustlin' means playing your heart out in public.
Food Handler

Homes: Butcher Shop, Bakery, Processed Food Factory, Fish Farm
Whether it's meat, fish, or baked goods you need to buy or sell, these inhabitants will be there to get you the right cut.
Hipster

Habitat: Bar

Homes: Barbershop

It's unclear who's really a hipster, but it's pretty clear that you can find them almost everywhere.
Security

Habitat: Newsstand
When they're not on patrol, these cops can usually be found at a newsstand or grabbing a bite.
Football Player

Habitat: Football Pitch
It's all about the footwork, in life and on the field.
Protester

Event: Strike

verify

Once risk and unrest in the 'hood rises, people will show their discontent.
Tourist

Habitat: Fine Restaurant + Sitting Area

Homes: Art Gallery, Spa, Zen Garden[1]

These tourists really enjoy landmarks and art, and, gosh darn it, they're gonna find both.
Factory Worker

Habitat: Plastics Factory
Factory workers are a key piece of the production line.
Jogger

Habitat: Any Hybrid Park x3
These inhabitants seek out different running routes and areas of fitness.
Casual Office Worker

Habitat: Coffee Shop + Office
Off the clock or inbetween meetings, you might catch these office workers grabbing a quick pick-me-up.
Student

Habitat: Library + Large Apt
When it's time to hit the books, there's really only one place to go...
Fruit Picker

Habitat: 2x2 Apple Orchard
Fruit can fall off on its own, but it might taste a bit better if it's picked...
Ostrich

Habitat: 2x2 Ostrich Farm
The towering birds live in sandy and arid habitats, particularly in open country.
Yogi

Habitat: Yoga Studio
Yogi are individuals proficient at practicing yoga in its many forms.
Mascot

Habitat: Noodle Stall
This costumed crusader comes out during times of great celebration.
Caribou

Habitat: Arctic Moss x6

Biomes: Tundra

Caribou is also known as a reindeer. Caribou can be found in coniferous forests characterized by swampy areas, lakes and rivers.
Coyote

Biomes: Desert Scrub
Coyotes are known for how well they adapt to different habitats. They can even be found living in and around large cities.
Crocodile

Habitat: 2x2 Mangrove

Biomes: Rainforest

Cold-blooded, they flourish in tropical habitats where they can bask in the sun year-round.
Elk

Habitat: 2x2 White Birch

Biomes: Forest

Elk range in forest and forest-edge habitat, feeding on grasses, plants, leaves, and bark.
Gazelle

Biomes: Savanna
Gazelles typically frequent wide-open spaces and plains, where they browse on grasses, shoots, and leaves.
Heron

Habitat: 2x2 Wetland

Biomes: Grassland

Herons live in both freshwater and saltwater habitats, and also forage in grasslands and agricultural fields, where they stalk frogs and mammals.
Moose

Biomes: Taiga
The moose lives in forested areas where there is snow cover in the winter and nearby lakes, bogs, swamps, streams and ponds.
Muskox

Habitat: Bristlecone Pine + Moss Campion x4

Biomes: Alpine

The muskox is a characteristic species of the Arctic tundra. In summer, it tends to use sheltered, moist lowlands, and in winter moves to higher plateaus.
Puma

Biomes: Grassland, Chaparral
Large felid of the subfamily Felinae native to the Americas.
Panther

Biomes: Rainforest
Panthers are habitat generalists, which means they use a variety of habitat types, including forests, prairies and swamps.
Lynx

Biomes: Taiga
Common to the boreal forest.
Leopard

Biomes: Savanna
Leopard can be found in semi-deserts, savannas, grasslands and rainforests.
Wildebeest

Biomes: Savanna
Their habitat comprises the grassy plains and open woodlands of savannas.
Wolf

Wolves can thrive in a diversity of habitats from the tundra to woodlands, forests, grasslands and deserts.
Boar

Habitat: 2x2 Olive Tree
Wild boars can survive in different types of habitat: grasslands, taiga, tropical rainforests, but they prefer life in deciduous forests.
Biergarten Drinkers

This inhabitant is not in the game anymore.

Habitat: Beer Garden
↑

Zen gardens will always spawn a tourist.
The shark mascot is a reference to Katy Perry's 2014 superbowl backup dancer and meme, "left shark".